A tool created for companies of any size
Successful Decisions is a tool that helps companies maximize their profitability, providing the information that the organization needs to make decisions that lead to its growth


Dashboard
See module
Administration of graphics that allow to visualize the results of greatest interest for each user of the system.
Verification of the detail of the data generated by each dashboard chart.
Easily create and manage the performance indicators of your organization, taking control of the performance of your employees, areas, companies, machines, etc.
All in real time and within reach of your hands.
Everything you need in one place
Create a KPI dashboard for each employee, each user decides what they need to see or measure.

Employees
See Module
Employee registration
Contract management
Holidays
Non-productive activities
Complete management of positions or jobs
Work schedules
Management of overtime (includes traceability in the time of overtime)
Movement record of collaborators (promotions, transfers, casualties, etc.)
Total control of information
It costs labor for positions
Keep an eye on your costs
Help your employees in the process of entering the organization, share documents to new employees among others, or income among others.

KPI
See Module
Definition of indicators of the organization
Definition of targets for each indicator and date in which it will be measured
Assignment of indicators
Enabling massive load of collaborators' performance
Verification of compliance with indicators over time
Generation of KPI master and export to Excel for custom analysis
Your company, your goals, it does not matter if you are an expert in balance scorecards or beginner, this module will help you measure what you need, without any complications.

Payroll
See Module
Definition of concepts
Definition of payroll types
Complete management of the return and traceability over time
Generation of operational, fiscal, social security reporting.
Administration of labor liabilities
Overtime and vacation management

Organizational development
See Module
Evaluate how you are implementing and communicating your organizational strategy
Create surveys easily and quickly
Generates and analyzes results in real time
Holding register
Company registration
Registration of venues
Cost centers and accounting accounts
Complete management of functional areas and organizational chart of the company

Recruitment
See Module
Enabling a website so that external candidates can apply to company selection processes
Selection by competences
Definition of phases of selection process by position
Detailed workflow of the selection process for each phase that integrates it
Summary of the selection process result
Generation of recommendations for candidates to hire

Projections
A clear vision of the future
Create and project the labor budget of your organization by cost center with information such as: cost of recruitment, benefits, rotation, salaries, among others.
Project your costs.
Keep control of labor costs.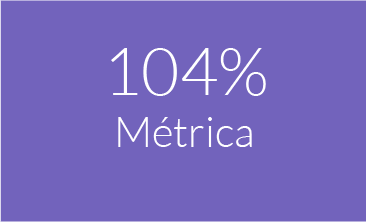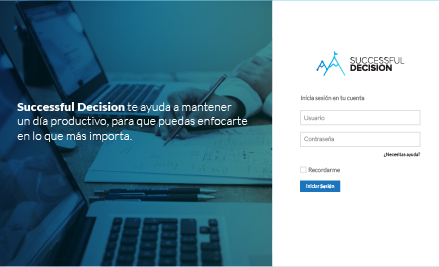 Successful Decision helps you keep a productive day, so you can focus on what matters most.